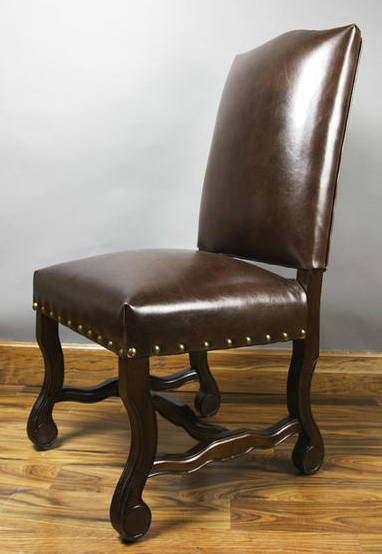 Leather Chair Old World Style and Comfort
Old World Leather & Jute Back Dining Chair
Compare at Suggested Retail $799.99
Craftmenship and Looks of the Old World
First seen, our leather and jute chair quickly brings to mind of old taverns or a Spanish ranchero. The fluted amber legs show the great craftmanship and style the old world had. The finely stitched leather and decorative nailheads gives the chair the class and style that will add to your dining room.
Features
Decorative NailheadPlus 6″ Thick SeatFlute Amber LegsJute 47″ Tall Seat BackBeautifully Crafted Carved BaseGloss Wood FinishHeavy Dark Brown Leather and Wood
About Howies Furniture
Selection and Quality – Howie's Furniture boasts a 60,000+ square foot showroom and warehouse. In a never ending quest to bring our customer's the highest quality at the lowest price. We attend the major U.S. furniture markets and International Furniture Markets.. Our buying team travels to the major international markets bringing in direct imports at discounted prices. Our inventory is constantly changing so we recommend taking advantage of our in-house Layaway . . . don't let your neighbor go home with "your" furniture.
Howie's Furniture Pledge – LOWEST PRICE! As a leading Furniture Distributor serving the Valley for 25+ years, Howie's Furniture delivers you the lowest price possible. Our family business is here to assist you in the showroom; no commission salespeople pressuring you and driving up the cost of your furniture. Howie and his "team" are the same faces you might remember from the 80's if you are a repeat customer looking to replace your old furniture. If you are new to Howie's we invite you to take your time and feel free to sing along when Howie turns on the karaoke mic!
Shipping – We ship fast and free because we ship warehouse-direct.
Return Policy – We are committed to your satisfaction.
Our Pledge- your privacy.