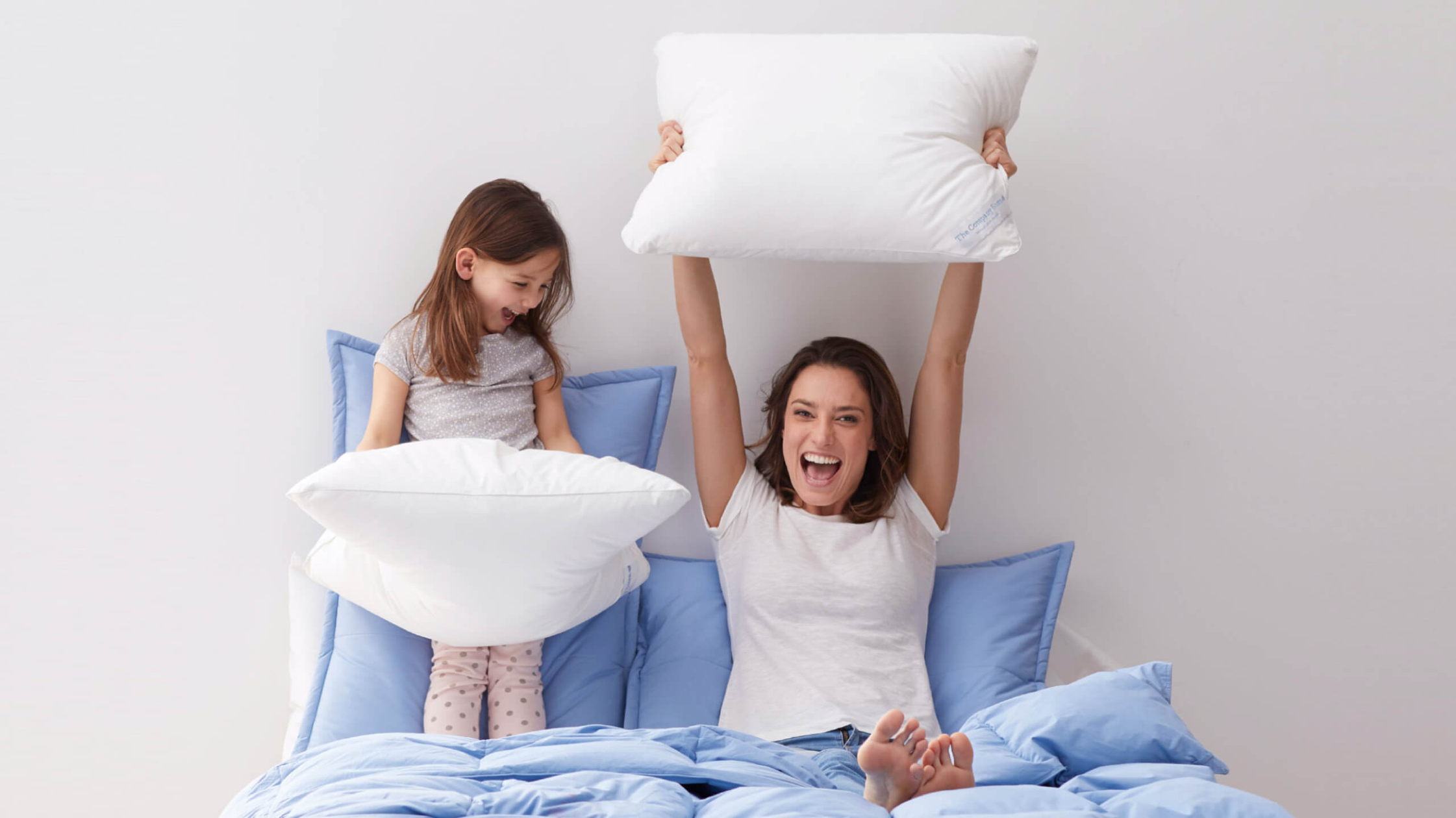 How to choose a pillow: tips and rules
Every night we spend at least eight hours cuddling with a pillow, so it is very important to choose responsibly. Let's figure out how to find the right option for a comfortable and healthy sleep.
Size
It's better to choose a pillow based on the pose in which you usually sleep. If it's mainly on your side – it's better to take a high pillow. If on your back or stomach – then, respectively, the low one. For those who are constantly changing position it is optimal to choose something in between or to sleep with two pillows at the same time: medium and low. The low one can always be removed if necessary, or, conversely, can be put under the main pillow.
Material
The best fabrics for pillows are natural, such as cotton or silk. The density of the fabric also matters, because a thin fabric is less durable and after a while the filler particles can come out, which can negatively affect your comfort and even your health. This is especially true for down and feather fillings. Quality down and feather pillows are usually available in teak fabric. Teak fabric has a dense plain weave that prevents down and feathers from penetrating. Also, the denser fabric smoothes out the heterogeneity of the filler, which has a positive effect on the comfort of the sleeper.

Pay attention to the quality of sewing. Crooked stitches, uneven stitches, undoubtedly, indicate poor quality. Quality turquoise pillows, as a rule, have either double outer seam or inside seam with decorative edging stitched between two fabrics. These techniques make the seam stronger.
Filling
Down and feather pillows usually contain a mix of down and feather from waterfowl. When buying such a pillow, you should pay attention to the percentage ratio of down and feather, because the comfort of the product directly depends on this factor. The down is responsible for the "airiness" and softness of the pillow, and the fine feather for its elasticity and shape recovery. Quality feather- down pillow keeps warm well and quickly recovers its form. If you buy a feather pillow make sure to know if the feather is natural or identical (i.e. artificial).
A novelty among pillows with natural filling – silk pillows. They are filled with silk fiber (silkworm), which is natural and very friendly to humans. For its chemical composition silk is nicknamed a second skin. Pure silk is hypoallergenic. Another plus of silk pillows is their durability. If you follow the simple rules of care, even outdoor pillows will serve you for a very long time, without losing its original shape. However, not all manufacturers know how to make comfortable silk pillows. It is all about the quality of materials used (filler and fabrics) and the technology of production. The fact that each silk pillow is made entirely by hand, and each manufacturer does it by its own technology. In most cases, dry cleaning is recommended for silk pillows. You can use a variety of cushions if you need to create a y.t. in the house. You can even find decorative cushions of different types that will perfectly complement your interior.